To see the story, go here.
Chapter 1, also known as "The Heartbeat of Mother Nature", is the second chapter of the main storyline.
Fisica and Ritmo continue their journey from the bright apple tree to the bell tower in the city. This chapter was released in 1.0 and has 8 songs, and it is the first chapter to introduce a Boss Song, Frey's Philosophy.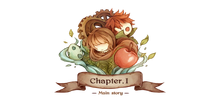 Characters
Edit
Song List
Edit
This is the longest chapter in the game with 8 songs.
This is the first place where Rossa and Nero make an appearance (after playing Frey's Philosophy).
Ad blocker interference detected!
Wikia is a free-to-use site that makes money from advertising. We have a modified experience for viewers using ad blockers

Wikia is not accessible if you've made further modifications. Remove the custom ad blocker rule(s) and the page will load as expected.