To see the story, go here.
Chapter 3, also known as "Tunnel of the National Institute of Notalium", is the fourth chapter of the main storyline.
The story follows Rossa and Nero when Fisica and Ritmo go in the tunnel at the end of Chapter 2. It was released in 1.5 and has 7 songs with a Boss Song, You are the Miserable.
Characters
Edit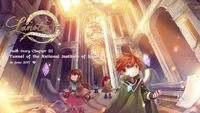 Hidden Poem
Edit
When completing 3 challenges in any song in this chapter, it yields a passage of text that seems to be part of a single poem with parts from each song area. Whether or not the order of the songs is the order of the text in the poem, that is unknown.
Apocalypse-
"Those who enter through this portal shall restore all melodies."


Song for Sprites-
"Melody is harmony. Melody is order. Melody is the infinite light. Melody is the source of life."

Phoebus-
"Sound is all things merged together on earth, all energies flourishing;
it turns light into rainbows, the spring into torrents."

Duelo-
"Here lies a bumpy road ahead. Do not be hasty."
"May the blessed ones finally fly free."

Androgynos A-
"Melody is a divine gift, whilst silence is a divine revelation."
"Thou shalt listen to silence......"

Androgynos B-
"...those things which are not to be controlled shall not be controlled;
those things which are not to be disobeyed shall not be disobeyed;
...
Do not dream in vain ... ... for the Notalium ... ...

You are the Miserable-
"Wait for me, Ena."
Characters
Edit
Song List
Edit
Ad blocker interference detected!
Wikia is a free-to-use site that makes money from advertising. We have a modified experience for viewers using ad blockers

Wikia is not accessible if you've made further modifications. Remove the custom ad blocker rule(s) and the page will load as expected.