Chapter C
Challenges
Edit
Whisper:
Achieve score 790000 or more
Acoustic:
Achieve score 800000 or more and "Fail" count no more than 25
"Harmony" rate 75% or more
Ultra:
Hit every Flick notes
Max Combo 40% or more
Master:
None
Overall:
Achieve Purified or above on each difficulty
This song is featured in the BOFU2015, which placed 9th in overall.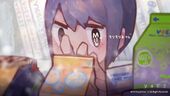 This song also appears in VOEZ and maimai.
The emojis in the "After 3 Challenges" cover art are relevant to the Original PV.