To see the story, go here.
Side Story 2, also known as "Adventure to the Glorious Sunrise Land", is the second chapter of the side storyline.
Fisica and Ritmo are heading to the East (before Chapter 1). It was released in 1.2 and has 6 songs with a Boss Song, LSDJACK.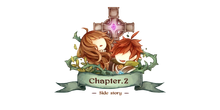 Characters
Edit
Song List
Edit
Ad blocker interference detected!
Wikia is a free-to-use site that makes money from advertising. We have a modified experience for viewers using ad blockers

Wikia is not accessible if you've made further modifications. Remove the custom ad blocker rule(s) and the page will load as expected.